With a heart to lead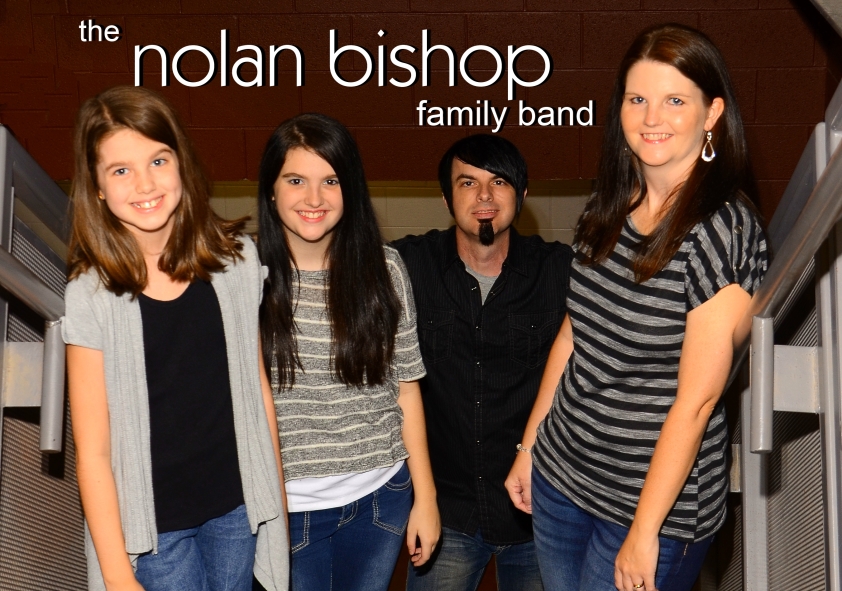 worshippers into the presence of God, the Nolan Bishop Family Band has found purpose and direction in the calling that God has placed on their family. Together they travel the United States in full-time ministry as worship leaders for an array of ministry events. "We do so many different type of ministry events - from kids and student events, college and adults, worship concerts and revivals, to even Sunday worship services, - that sometimes it's difficult to describe to people exactly what we do. We just seek to minister to every person that God places at one of our events regardless of age or where they are at in their walk with God".
Nolan(guitar, keyboard, lead vocals), Stacy(bass guitar), Alexis Starr(drums, vocals), and Mercy Rain(vocals, violin) are a family of worshippers who desire to communicate the "Truth, Hope, Compassion, and Love found in Jesus Christ". Whether it be at a school assembly, worship concert, camp or retreat, kids event, church-wide revival, or even a Sunday morning worship time, their goal is still the same - To worship the Father in spirit and in truth(John 4:23).
Their latest CD "For Your Glory" is a collection of songs in which the worshipper will find purpose, comfort, hope, and direction. "It's a proclamation of how we believe we should live our lives - for the glory of God. Our very life(the things we do everyday) should be an act of worship to our God, not just something we do on Sundays."
In addition to traveling with his family in worship ministry, Nolan is powerful communicator of the gospel for students and adults alike. He also serves as one of the worship leaders at First Baptist Church in Magee, MS, where the family is actively involved.